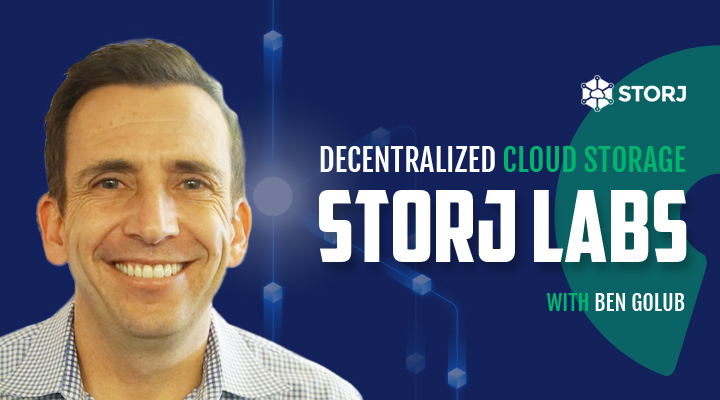 Episode 37: Storj – AirBnb for Your Disk with CEO Ben Golub
Ben Golub has lead several open source software ventures, including Gluster and Docker. Storj monetizes open source by creating a distributed file storage network. Using the network, people can securely store files. And owners of Internet connected computers can put their unused disk capacity to work. To lower transactions costs, Storj launched a true utility token, which has intrinsic value. It simplifies transactions of an alternate 150+ fiat currencies. This episode was recorded in person at the Open Core Summit.
Transcript
Intro
Michael Schwartz: Hello, and welcome to Open Source Underdogs. I'm your host, Mike Schwartz, and this is episode 37, with Ben Golub, CEO of Storj.
I was really excited to schedule this episode because for a few years I've been wondering if there's some cryptocoin business model that might work in the open-source world.
This is the second of three episodes that we recorded at the Open Core Summit in San Francisco in 2019. It was a fantastic event for open-source teams and founders, and I highly recommend attending the next one.
Ben was previously the CEO of Docker, he was also the founder of Gluster, which was sold to RedHat. He has a pretty deep understanding of the trials and tribulations of building a business around open-source.
After finishing the interview, I wasn't 100% sure this was really an open-source business model after all, but Storj is definitely one of the most unique companies I've ever learned about. So, with that said, let's roll the proverbial tape.
Origin
Michael Schwartz: Ben, thank you so much for joining us today.
Ben Golub: My pleasure.
Michael Schwartz: Ben, before Storj, you helped found a company that launched a little product called Docker – can you tell us a little bit about your journey? How did Storj come about, and why did you move on from Docker?
Ben Golub: Yeah. I've now been at 8 startups, four CEOs, so I'm a glutton for punishment. I actually started my career doing international development, so my first failed startup was a business school in Uzbekistan that had a business model, which was I think, "Teach people how to read a balance sheet and then democracy will flourish." And that didn't quite work.
But from then on, I've been involved in sort of the first version of the web, ran a number of businesses at VeriSign, was the CEO of Plaxo, was the CEO of Gluster, which we sold to Red Hat, and then ended up at what was dot.Cloud, and it eventually became Docker.
Right at the time, Docker had this crazy notion of taking a container that we used to run a PaaS and said, "Hey, can we make this available to the world?" And Solomon Hykes, the founder, and I introduced this notion of a container. And I think in sort of excellent open-source fashion embraced the community, embraced something that was disruptive.
We saw it grow, and it became tremendous. I think it helped change the industry and became a driving business. I'm an early-stage startup guy, I'm not a late-stage startup guy, and I think that once you want to get to a certain size, where it's 500, 600 people, and you're closing in on a hundred million revenue, there are people that are better at scaling PaaS than I am.
So, I moved on. I still obviously love the company. And then, I got approached by Shawn Wilkinson, who had this crazy notion as a student at Morehouse College that you could build Airbnb for disk drives, and that's what I'm doing now.
Is Storj Distributed S3?
Michael Schwartz: I think of Storj as decentralized S3.
Ben Golub: That's absolutely accurate. Deliver something that's S3, its cloud storage, but it's delivered across a huge network of disk drives that we don't own, that are run by individuals and data centers.
How Does Storj Make Money?
Michael Schwartz: So, for every dollar raised, 60% goes to the person with the hard drive? The other $0.40 I guess goes to storage, the company – how do you use that $0.40 to help build the ecosystem?
Ben Golub: It's a really good question. One of the most important things that we do is, we sort of build equivalent of really large self-storage data centers, without spending any capital, and we just compensate the people who run the nodes.
We are onto the same thing on demand side as well, so rather than hiring hundreds of salespeople and giving away open-source software for free, we've come up with the notion that open-source drives 2/3 of the cloud, so we give a portion of our $0.40 to any open-source software company.
Usually, our way is, we also have partners in the Storj space, we are partners like Mongo, FreeNAS, FileZilla and Influx, and it's really a great win-win.
Who Are The Users Of Storj?
Michael Schwartz: Who are the users of Storj? What type of applications is it good for?
Ben Golub: Its really general object storage, which means that anybody who's generating a large file that is going to be read a lot, it's an excellent use case for us. That's good for backup, it's good for serving videos. It's good for distributing software.
The world of course creates lots and lots of data every year, and about 90% of it that's being created is sort of large files, which is a perfect use case for us.
Why Use Storj Over S3?
Michael Schwartz: Some would say that you have to be ten times better than a previous existing solution to motivate people to move – why would someone use Storj over Amazon S3?
Ben Golub: That's a good question. And they almost have generalized it to the centralized cloud storage offerings. One interesting note is that while the price of disk drives has come down roughly 50% over the past five years, the price of cloud storage has come down maybe 10%, during a period in which the amount of data of course has exploded.
We are significantly cheaper, we are also profitable. We are also significantly, we think, a much better security model. And we can't read your data. It is almost impossible for a hacker to get your data, or get a treasure trove data – it's like sort of encrypted sand on an encrypted beach.
We also happen to be faster. We happen to be 100% durable, and at a significantly lower price. What we've found is, there's almost insatiable demand for people to try us out. Now, it's early, so people are dipping their toes in the water, using test data first, or you know, low value use cases, but we think when they see what we're doing, they'll be here.
How Does The CryptoCurrency Work?
Michael Schwartz: Google tells me that Storj as a cryptocurrency issued on the Ethereum platform. The price they told me is $0.1514 cents, and a 24-hour trading volume of three million, prices up 3% in the last 24 hours.
Ben Golub: Oh, it must have been my speech.
Michael Schwartz: It is a circulating supply of $144M coins, of max coin supply of 425M coins. So, my question is, how does a cryptocurrency relate to the monetization strategy of the company?
Ben Golub: Our basic economic model is that we quote prices for Storj, and we quote them in dollars. And as a consumer of our service, you can either pay for storage with us in dollars or in our cryptocurrency.
If you are a provider to us, if you are renting out your disk drive, we pay you a dollar rate, we pay you using our cryptocurrency.
And you can either hold onto that, you can use it to buy storage on your own, or you can trade it on one of the 11 + exchanges that are using us.
Unlike a lot of other crypto companies, we're primarily a decentralized storage company. And the crypto is a great accelerant, it lets us have hundreds of thousands of people get paid in 180 countries and build things like smart contracts. But we're not a mining company, we are a company that is first and foremost about delivering a much better approach to storage.
Why Use A CryptoCurrency?
Michael Schwartz: Why was the cryptocurrency a better way than just settling in cash?
Ben Golub: Well, it turned out to be very difficult to settle in cash in small amounts. It's very difficult to do things like smart contracts using cash money. We are in 180 countries, so what we found is that having the cryptocurrency made it much better for us to build a large network.
Now, we could certainly be entirely fiat-based, but then, there would be additional fees, but this seems to align well with our interests.
What Is The Disconnect With Value And Economic Empowerment?
Michael Schwartz: You've said in the past that there's a disconnect between the value created by open-source software and the amount of economic empowerment – what did you mean by that?
Ben Golub: If you look at for example the cloud market, which is now a 180-billion-dollar market, over 2/3 of all of the workloads are open-source based. In fact, if you were to include Linux in that, it's about 90% of the workloads.
It is very clear statement to make that open source built the cloud. If you look at the total revenue generated by pure-play public open-source companies, like the Red Hat's, and the Hortonwork's, and Cloudera's of the world, their total revenue is about 5 billion. So, 5 billion out of 180 billion.
If you talk to any open-source company that's doing things in infrastructure, what you'll find is that the primary way in which they are being monetized now is by Cloud companies, who, for rational reasons, basically give away the software for free, in order to drive consumption of additional compute cycles, or additional storage cycles.
And unfortunately, cloud computing is the biggest trend and monetization by giving away for free is the biggest way that open source is getting monetized. And there are really only four companies on the planet that are capable of running large public clouds. That to me is a huge disconnect.
Is Cloud Strip-Mining A Victimless Crime?
Michael Schwartz: On this podcast, we've had several guests who are worried about what we called Cloud strip-mining of open-source software, and they see it as really an existential threat to the open-source ecosystem.
And yet, Elastic, Redis and MongoDB are doing pretty well. Is this a victimless crime? And is it desirable for the companies that develop the open-source companies to capture all, or even a majority of the revenues, in the ecosystem?
Ben Golub: I agree that there are a handful of successful commercial open-source companies, I happen to have been at a couple of them, but these are just a handful of them. And almost all of the ones that you mentioned have essentially gotten to their state by spending hundreds of millions of dollars to go directly to the on-premise businesses.
And while I think it is wonderful, and it's great that there are success stories that there are, I don't think we would be happy if we said, "Hey, there are only five successful farmers in the world out of millions of farmers." We wouldn't be happy if we said, "Hey, there are only five or ten, successful companies in general."
There is so much potential, and so much of these trillion-dollar IT industry, and 180 billion-dollar Cloud industry is being driven by open source, but if it isn't flowing back in, then, we're really not going to see the potential that open-source could really bring to us. In much the same way that I don't think telecommunications was delivering on its full potential until we went to the internet.
Does Decentralized Cloud Offer An Alternative Business Model?
Michael Schwartz: So, selling to these large enterprise customers, as you mentioned it, an on-premise software product is really expensive to scale support in sales. And it could be tens of millions or even hundreds of millions of dollars actually build that kind of infrastructure – but does decentralized cloud approach change that for these companies?
Ben Golub: Yes. For an open-source company that partners with us, if they have an open source project, whether through paid users or free users, generates lots and lots of storage. My guess is that they are generating lots and lots of money for one of the big four cloud providers, but are not seeing any of that.
Instead of trying to come up with a new kind of license, we come up with a new kind of cloud, a centralized cloud, like Storj, it's entirely in our rational benefit to say, "Hey, if you have an open-source company that drive storage to us, we will give you a healthy chunk of the revenue that we get. And so that's what we do.
All of a sudden, they're able to build up a sustainable revenue source that doesn't require hiring lots of salespeople, it doesn't require trying to solve the multi-cloud problem for the 500 large companies in the world that they can do that.
Now, we may not be-all and end-all, we may give them the first two years of additional runway, so that they can build a sustainable base, and then go after the enterprise – and that's fine. But getting from big community to successful enterprise sales is a really hard gap to close without the cloud.
Does The Market Value Open Source?
Michael Schwartz: Recently I was reading an S, and I did a search for open source, and the only place I found it, was in the risk section that, you know, somehow using open-source might come back and bite us, and we might have a liability. Do you think that the public is really aligned with this view that open source is a good thing?
Ben Golub: I think there's no question to me that open source itself is the dominant way that software is getting written and consumed. Go to any enterprise, and it's far more likely to find that they are open-source first rather than proprietary.
If you look, all these same things are happening, whether it's Containers, or Docker, Kubernetes, or Mongo, or databases, or in operating systems, or in machine learning – it's all happening in open source.
But the monetization of that is broken. It's not that anybody questions that open source is a right way to build great software, it's that the monetization model that used to be fairly clear has now gotten disrupted by the public cloud.
Michael Schwartz: Because one of the best monetization strategies of offering and as-a-service is now not available?
Ben Golub: It's not available. If you are a small company, it is almost always a much better idea to say, "Hey, let me service lots of small and medium-sized customers first with something that looks like a service, rather than trying to do on-premise."
You might eventually get to on-promise, but unfortunately, that model, which used to work pretty well for open source, is really difficult now. And it's not only that you sort of have this gap between large community and getting to on-premise, but increasingly, even the on-premise market is now becoming dominated by public cloud.
Does Open Source Materially Contribute To The Business?
Michael Schwartz: Do you think that using the open-source development methodology materially contributes to the business?
Ben Golub: It really depends. I'd say open source is not a strategy, it's a tool. And you have to find the right approach to open source that matches with your business strategy. But, if your strategy — Docker certainly could not have happened had we been proprietary.
We could not build a huge ecosystem and get so much usage and integration if we were proprietary. And then, the challenge becomes okay.
Now, we've got millions of users and billions of downloads, and lots of enterprises are interested in how we turned that into monetization. But, honestly, that's a much better problem for me to try and solve than, "Gosh, I've got some proprietary. I can't take anybody even take a look at it, and it doesn't work with anybody else's stuff."
When To Open Source
Michael Schwartz: What do you think are some of the indicators as to when the project should be — where open-sourcing it might be helpful?
Ben Golub: I think that there are a few different things to look at. I think, first of all, you want to, in any project, do that 10x thing that you said. If you're just coming up with an open-source version of salesforce, and the only difference is, it could be slightly cheaper, that is not going to happen.
The disruption was being SaaS, the disruption isn't on the code side. But I think that, to the extent, what you are building requires a strategy that wants to build a large top of the funnel. You know, if it's something that's developer-centric, if you have a strategy that depends on having lots of integration, if you have a strategy that depends on being disruptive, then those cases, I think, you want to look at open source. If you're just an end-user application – probably not.
Storj Virtuous Cycle
Michael Schwartz: You mentioned that with Storj, there's a virtual cycle of investment, growth monetization, and innovation – can you unpack that a little bit because that's very concise?
Ben Golub: Sure, again, we are a different kind of cloud, and since 2/3 of cloud workload is given by open-source, we've sort of elected to try and make the open-source community part of our go-to-market, but in a mutually beneficial way.
In the model that we have, if you're an open-source company, and your product generates lots of data whether by your free users, by your page users, it doesn't matter, backups, if you build a connector that gives your user the option to send that data to us, versus another form of object storage, will give you a chunk.
What does that set up? It sets up a nice virtuous cycle, in which open-source innovates, open source generates revenue for us, like in similar decentralized networks. We, in turn, send revenue back to open source, which allows them to innovate further and build their own business models, and it continues.
Other Decentralized Opportunities?
Michael Schwartz: You mentioned that decentralized cloud is potentially a new business model for open source. And I understand how you're saying, if you write an open-source piece of software that uses Storj for file persistence, that you could generate revenues from that. Can somebody build a company like Storj that uses a decentralized approach to something else?
Ben Golub: Yeah. There are companies – we are sort of decentralized S3, as you said. There are other companies out there, like Xiamen and others, who are trying to do decentralized DC2.
Of course, there are a lot of interesting decentralized payment companies, there are interesting decentralized CDN companies. Each of these has basically been taking a fairly horizontal use case that the cloud companies deliver, but deliver it in a decentralized way. And I think, in all cases, we would all be well-served by embracing this notion of mutually beneficial relationship with open source.
Other FOSS Cryptocurrency?
Michael Schwartz: The only company that we've interviewed, who has issued a cryptocurrency, do you think that there's opportunities to use cryptocurrencies for other purposes? Maybe to help either fund or reduce transactions cost for developing or monetizing?
Ben Golub: Absolutely. I've seen lots and lots of interesting crypto companies, and there are lots of not so interesting ones that are just 'fly by night' operations. But, among the interesting ones, with blockchain and cryptocurrency, what we needed to do is sort of create these large decentralized networks, where trust is sort of built into the network, rather than residing in a particular individual.
And you can make payment algorithmic. There are a lot of interesting experiments, for example, to say, "Hey, let's reward people for contributions to open source based off of using crypto currency, and doing it in an algorithmic manner." And it gets really an interesting idea.
But ultimately, for anything like that to work, somebody has to be able to drive economic value for the open-source to begin with.
And my guess is that's not the people who today are generating the value, which is the public cloud companies.
Challenges Of Launching A CryptoCurrency
Michael Schwartz: From a legal business perspective, it's fairly technically challenging launching a cryptocurrency.
Ben Golub: Yeah, we were sort of fortunate that we did it right. And we also, in 2017, we had a network built and launched before we did a token sale. The token sale had utility from day one, and we've tried really hard not only to be enterprise-grade in terms of our product, but to be in a serious enterprise-grade in terms of our governance and management of the token and our treasury policies, inside our trading and governance, all those good things.
Treasury / Governance Of Currency
Michael Schwartz: Storj actually holds cash or an amount of cryptocurrency that's let's say unissued – is that how it works?
Ben Golub: Yes. We generated in our token sale 425 million tokens, and then in essence, we broke the mold. So, there will be no more ever created. We sold 75 million in our initial token sale. Since that time, of course, review tokens to compensate people who are running nodes, some people have paid us back in tokens.
Right now, there's about a 125 million storage tokens in circulation, and then, the remainder we have, the biggest chunk of that, is in time lock, so that it won't be entering the market in an undisciplined way.
View On Red Hat Acquisition
Michael Schwartz: I could probably keep asking you questions about cryptocurrencies for the next half an hour.
Ben Golub: Oh, that's okay. Happy to answer that, but now, I'll be honest, I find cryptocurrency far more interesting than decentralization. Because, ultimately, I think that if that's a tool, and cryptocurrency is a small part of blockchain, and blockchain is a small part of decentralization. Decentralization is in some way even bigger than Internet, because Internet in itself is decentralized.
Michael Schwartz: Slightly off topic question, but is the acquisition of Red Hat by IBM a good thing for the open-source software segment?
Ben Golub: I think it really depends on how IBM manages it. Some companies do a great job at acquisitions and some don't do a good job. I have to say that I actually sold a company to Red Hat Gluster, which, of course, Red Hat has now become part of IBM.
I think to the extent that IBM enables, or allows, Red Hat sort of to open-source roots, but helps it sort of continue to flourish as a shining example of commercially successful open source, I think it's great.
Personally, last year, I was able to say, "Hey, it's fantastic, we now have more than Red Hat.", as an example of a public open-source company, and Red Hat, and Hortonworks, and Cloudera and RealSoft and, and now Mulesoft has been acquired. Cloudera and Hortonworks have combined, and Red Hat is now part of IBM. Elasticsearch entered, but there's fewer public open-source companies.
Michael Schwartz: Now, we have less.
Ben Golub: Yeah. And, of course, the largest one is now no longer independent.
Move To Open Source License
Michael Schwartz: Recently, several prominent companies in our industry, like Cloudera and Chef, moved to an all open-source strategy, then moved away from open core. Do you think open core has peaked and will move back towards a more truly open-source model?
Ben Golub: Well, it's interesting, because on the one hand, you've seen some people become more permissive with their licensing, and then you've also seen other companies become more restrictive, and come up with a sort of new licenses to deal with the Cloudera.
I don't have a dog in that fight, except I think that the answer to monetizing the cloud isn't a new kind of license, I think it's a new kind of cloud. And that's where we come from. Because, ultimately, yes, you can add value to open source by making it better for large enterprises, whether it's through proprietary modules, or services support, or subscriptions, or packaging.
I think there's all kinds of variations on a theme. What we need to do is find a way that you can make open source monetizable for large numbers of small and mid-sized companies, or even larger companies that are running in the cloud.
Biggest Challenges For Open Source Businesses?
Michael Schwartz: Putting storage solution aside for one second, what do you think are the biggest challenges today facing entrepreneurs who want to build a business around an open-source software project?
Ben Golub: I think that the first challenge most have to do is, like any great open-source project, build something compelling and build an exciting community around it – that's a hard thing to do.
I think that what they then need to figure out is how do they build a sustainable business model that can carry them from the time they have a really big community to the time that they have a sustainable economics.
Along the way, it gets really difficult. Even if your community is successful, how do you manage your community, how do you monetize, how do you make it possible for people that participate in your community, without undermining it, and how do you avoid going down to the point where all that you get from a large company is just charity.
I'm not saying charity in a bad way, but I'm saying, when I was running large open-source communities, what I wanted from the cloud companies wasn't some cloud credits. I didn't want them to say, "Hey, I'll put two people on your thousand-person projects."
It's nice, but what we really needed to do was have a mutually beneficial business relationship, so that we could invest and grow.
Advice For Entrepreneurs
Michael Schwartz: What advice do you have for the entrepreneur who needs to lead this open-source effort? You've been through the entrepreneurial journey many times, and I'm just wondering if you have any advice for the person who is actually going through that journey?
Ben Golub: Well, of course, it is a journey. As they say, it's a marathon, not a sprint. I think, personally, what you have to do is, you have to love what you're doing. And I think especially for an open-source, you have to believe that the journey will be worth it even if you can't feel the successful business.
Because, what you are doing, it's interesting enough for you, and it's going to be hard to build something interesting enough for the community. But having done that, I think you need to think really clearly about where you want to be each year over the next five years. I think you need to think really clearly, from my point of view, over what your monetization strategy is going to be, and who are your users, and what is your use case.
I think far more startups fail because they don't pick a direction than because they choose the wrong direction. I think if you articulate internally a really clear direction, and then, you're consistent in saying that's your model, whether it's open core, or service and support, or access, or whatever it is, and then you are relying on everybody in your company – I hope choice of strategies is right.
But even if it's slightly wrong, at least you'll all be running in the same direction, and you can change course. The worst thing that I've seen in startup after startup after startup is, they don't pick a direction.
Everybody runs at five different directions, and they know they are failing and they don't know whether it's because one of those is wrong or because all of them are wrong.
Closing
Michael Schwartz: Ben, thank you so much for taking the time out of the conference today to record the podcast.
Ben Golub: Great questions, thank you.
Michael Schwartz: Huge thanks to the Open Core Summit for connecting us to Ben, and for making space to record at the 2019 Summit. Don't miss the Open Core Summit next year. It's a fantastic event for founders and open-source teams.
Transcription and episode audio can be found on opensourceunderdogs.com.
Music from Broke For Free and Chris Zabriskie.
Audio editing by Ines Cetenji.
Production assistance and transcription by Natalie Lowe.
Operational support from William Lowe.
Have comments? Tweet at us. The Twitter handle is @fosspodcast.
Please, subscribe to the podcast, or add it to your favorites on your platform. Every subscription counts.
Next week, we have Isaac Schlueter from npm, the last of the in-person interviews from the Summit.
Until then, thanks for listening.

lliam Lowe.
Have comments? Tweet at us. The Twitter handle is @fosspodcast.
Please, subscribe to the podcast, or add it to your favorites on your platform. Every subscription counts.
Next week, we have Isaac Schlueter from npm, the last of the in-person interviews from the Summit.
Until then, thanks for listening.