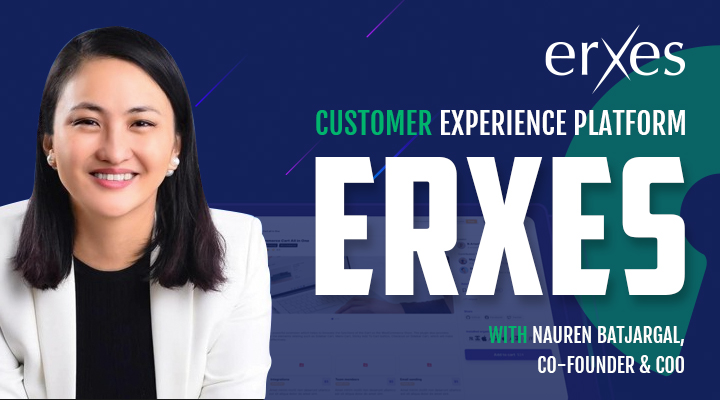 Episode 61: Interview with Nauren Batjargal, Co-Founder & COO of Erxes, a Leading Open -Source Customer Experience Platform
Intro

Mike Schwartz: Hello and welcome to Open Source Underdogs! I'm your host Mike Schwartz, and this is episode 61, with guest Nauren Batjargal, Co-Founder and COO of Erxes, a firm based in Mongolia that produces an open-source CRM and Customer Experience Platform. It is the first crowdfunded startup I've interviewed in the series. So, without further ado, let's cut to the interview.
Mike: Nauren, thank you so much for joining us today.
Nauren Batjargal: Thank you for having me today.

Mongolia

Mike: You are the first open-source founder I've spoken with from Mongolia – is there something special about Mongolia that led to the development of this open-source platform?

Nauren: It's minus 40 degrees right now, Celsius degrees, in Mongolia right now. It's actually some of the coldest places in the world right now, so…yeah, here we are. Just doing the things that we do every day. Except the cold.
Mike: Where is the team located? Is there a critical mass there in Mongolia, or you are globally spread out.

Nauren: Yeah, we're globally spread out, but the majority of the team and the development team is based in Mongolia.

Why position directly against Hubspot?
Mike: So, I liked the description of Erxes on GitHub. It says, "The open-source HubSpot alternative enables SaaS providers and digital marketing agencies/ developers to create unique experiences for their entire business." I'm curious, why did you choose to position yourselves there versus HubSpot?
Nauren: We started the whole business, I mean, substituting the HubSpot, because, basically, we started the Erxes when we were the marketing agency. Then, like, while we've been marketing agency, and that we had to obviously generate some leads. And then, at the same time, looking after some of the existing clients as well as nurturing and implementing the project, at the same time with the limited human resources we had. And we've been using Intercom and HubSpot, Pipedrive, I think. You could name most of the marketing tech tools we've been using.
Partially because the single tool can only fill the part of the business life cycle. There was a lot of manual work behind using those several tools, as a small company. Most of the time, only four or five people are using four or five different tools, but then, there's so manual work at the back. But then, on the other hand, it was too expensive for us.
So, that's how we started. The main plug-ins, what we call it now, the main features that we have is what really HubSpot does. And also, explaining this kind of tool is really difficult. I use HubSpot to give an idea for everyone, like it's an easiest and quickest way. So, that's how the name came up.
Value Prop
Mike: What are the most important value propositions for your customer?

Nauren: There's so many tools out there, and an average company uses at least 5 to 10, some like more than 10 tools they use in their everyday operation. Just using those so many different tools can lead so many ineffective and manual work. And also, eventually, it makes each team start talking in different languages – purely because the database they're using is not the same. And those tools don't often talk to each other, which directly affects the costs as well as the growth of the company.
The biggest value proposition that Erxes offers is, make the entire company talk in the same language. Because, the open-source, you can customize it entirely to fit to your business. And it has more than 48 plug-ins that can fit into every single of your different field, or different teams that you have. And even if Erxes doesn't have any of the tools that you require, maybe you can develop one, or maybe you can integrate it because it's open-source. You can actually do that. Plus, it's open-source, and compared to some of the closed tools, it offers fairly sustainable price-friendly options. As long as you could manage maintaining, and configure, and all those technical work that you can manage doing it, yeah, you can have better pricing options that can have you grow better.

Technical Skill Required

Mike: There's a funny saying that I always think about, which is that open source is only free if you don't value your time. Because there is a care and feeding aspect to operations.

Nauren: We have a service that we provide to save our customers' time, to help to set up all those technical work. I know when you start a new tool, it's a lot of work – especially with the tools like Erxes or HubSpot. It's a lot of time, but once you get to know this value proposition and once you decide to move forward to this, there is a lot that you can benefit from.

Monetization

Mike: Which actually brings us to a good question about monetization. How do you monetize a SaaS license, plug-ins, APIs, and which monetization strategies are actually the most important to the company in terms of both current revenue and growth?
Nauren: Because we started and we had to bootstrap, we've had a number of enterprises which have like a large number of customers. Most of them operate in highly regulated industries. We offered them a tailored solution and like a dedicated support. What we aim in the future is to support partner companies as well as developers, independent developers, who can benefit from us, so then, we can earn from our support, as well as from the percentage from their revenue.
That's one way of revenue-generating. And also, some of the plug-ins that we have are paid plugins – that's the other revenue-generating plan that we have.
Moving from Enterprise to SMB?
Mike: So, you are really looking to figure out how can you really grow into the SMB space, which maybe would have better growth for you.
Nauren: That's right, that's right. That's the biggest challenge that we have. Last year, we prepared our technology to be ready for this growth and resistant. But then, this year, we go into purely focusing on building the community and supporting those developers within our community, and make sure our tool is now developer first, shifting from an enterprise first to a developer first, I would say.

Product Focus
Mike: You mentioned that, perhaps, you're going to introduce commercial plug-ins – which area do you see contributing to the most growth in the future?
Nauren: Yes, we already have a number of commercial plug-ins. This year and the next couple of years, we really purely focus on developers building the great developer roadmap and supporting them. And whichever way this will lead us, we will follow it. Because we started listening to the developers, and yeah, making the whole road to be smooth and easiest as possible.

Segmentation?

Mike: So, with regard to your business plan going forward, marketing technology – it's a very horizontal market, which makes it very challenging, as you know as a marketing expert. What is your plan to segment the market? Is developers your segment? Or is there any other way that you're looking to segment the market going forward?

Nauren: You are right. We've been doing marketing ourselves for the last 10 years. One thing that we know is, depending on who they are, and even though the companies operating in the same place and doing exactly the same thing, in the same industry, when it comes to marketing, they all require completely different thing from one another. Building a tool for them – it just doesn't work if it's just one SaaS tool. And that's why we started this open source.
And the biggest advantage Erxes has is, whoever doing marketing is using Erxes can make the tool fits completely entirely for themselves, just like Lego. So, you could just make little changes within the plugin, and also you can add additional little bits and pieces to make it fit entirely, especially all those additional tools that communicate within the organization as well – you can sync it all together, sync the data all together, and eventually work as one.
So, in that way, anyone who uses marketing, whether it's different or the same, you could have your own tool. Because we made a mistake over the years.
Like in the past, we were trying to segment the market, and then, we build something and then the next thing we jump in, and it turns out to be completely different. And then, we create another plug-in, and we create another plug-in. That's how we already have 48 – like, so many plug-ins we already created. Even in the same industry, they require completely different tools. I mean, being open-source, it just helps make this tool to be suitable for everyone really.
P

roduct Best Positioned for Growth

Mike: And in your marketing strategy, do you see your cloud-hosted offering as being a bigger driver for growth or the plug-in license revenue?
Nauren:
We always believe in open source. And we believe that the open-source plug-in is the biggest growth potential that we have.

Origin
Mike: When was Erxes actually started exactly – what year?
Nauren: The idea was initiated in 2016, but officially started in 2018. So, it's six years.

Challenges of Mongolia

Mike: Just getting back to Mongolia for a second, because it is a very remote place. Have there any challenges from being in Mongolia?

Nauren: In terms of being an entrepreneur, being a developer, it's the same – we are just using the computer and talking to you at the midnight in Mongolia. It's normal, just like any other entrepreneur on a daily basis – it is the same. Except the weather and the atmosphere. Mongolia is based in Central Asia, and the Covid and all these political and economic challenges that we're facing – it affects some of the members of our team. Otherwise, it's just pretty much the same, you know.

Mike: Interesting. Yeah, thank you for sharing. Any advice for entrepreneurs who are launching a business around an open-source product?

Nauren: I mean, it's the same. Whether it's open-source or SaaS, you got to be really tough, stick to your decision and to make sure you love it. And then, to be persistent in challenges that you would face along the roads. Starting the business is not easy. Whether it's related to technology or any other industry, it is the same. It's challenging. So, you just make sure you be prepared.

Mike: Nauren, thank you so much for joining us today, and best of luck with the Erxes.
Nauren: Oh, thank you very much.

Mike: And thanks to the Erxes team for reaching out. Cool graphics from Kemal Bhattacharjee. Music from Broke For Free and Chris Zabriskie and Lee Rosevere.
Sorry for the long delays in releasing episodes. Being CEO of Gluu has been keeping me busy. But I'll have two more episodes in the next few weeks: Liz Rice from Isovalent and Amandine Le Pape from Element. So, until next time, this is Mike Schwartz and thanks for listening to Open Source Underdogs.