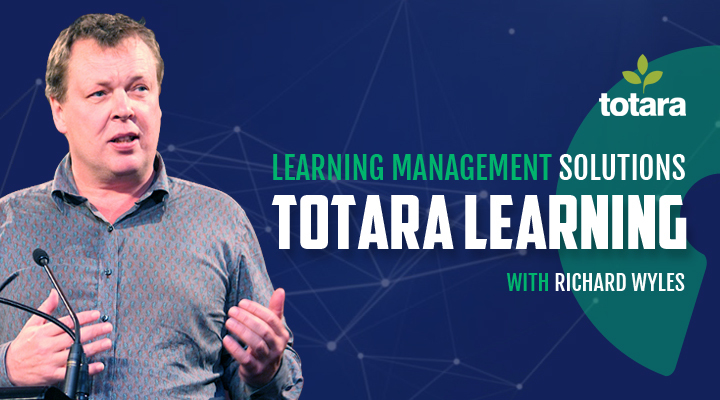 Episode 25: Totara Learning – Learning Management System with Richard Wyles
Richard Wyles is the Co-founder and CEO of Totara Learning, an open source learning management system. In this episode, Richard discusses how Totara monetizes access to its open source software.
For further reading on Richard's perspective regarding open source business, we highly suggest checking out his article: We don't make software for free, we make it for freedom.
Transcript
Intro
Michael Schwartz: Welcome back to Open Source Underdogs, the podcast where we train you how to build a successful business around an open source software project.
This week we have a slightly longer interview than usual, with Richard Wyles, Founder and CEO of Totara Learning.
Richard is from Wellington, the capital of New Zealand. And, as if you didn't know this, Wellington is a pretty far away place to start a global software company.
But in some ways, I think being far away was the catalyst for innovation. I don't think a company like Totara could have been started in Silicon Valley, for example.
Richard has some interesting thoughts about open source. Just when I thought I heard every open source business model, he lays out something completely new and in some ways incredibly simple.
So, I encourage you to hang in there and give this one a listen. Here we go.
Richard, thank you so much for joining us today.
Richard Wyles: It's a pleasure to be here, Mike.
Who is Totara?
Michael Schwartz: Just to provide some context, can you give an overview of the Totara learning platform?
Richard Wyles: Sure. Our flagship product is Totara Learn, which is a corporate learning management system, originally based off Moodle, which is a very popular open source learning management system in education.
And the corporate environment, there's quite a lot different in feature set that corporates need, particularly around the strength of the reporting, and management visibility on the performance of their team members, giving them learning plans, content management is very important in that context. Particularly in high compliance industries, like healthcare, finance and various other security.
There was quite a lot more functionality that we had to build into Totara Learn, and we have some other products as well, but this is our main product.
Origin Story
Michael Schwartz: Totara was founded in Wellington, New Zealand. How did that come about?
Richard Wyles: I grew up in New Zealand, and I like living here, and so that is why it is headquartered here, fundamentally.
It is possibly not the smartest place to headquarter a global company, but it is a digital good. We have been able to do it with a partner network.
The back-story really is, back in the early 2000, 2003, I secured some New Zealand government funding. There's a contestable fund there for innovation around eLearning.
The New Zealand government at that time felt that the New Zealand education sector was getting behind. And that's because New Zealand is very isolated, it's got a small population base, and so, education sector is spread across.
It's a small country, but geographically, it's around about the same size as Britain, Italy, or Japan – all of which have much larger population concentrations. So, further education and higher education sectors get spread quite thin. They're smaller institutions, but they need to be regionally-based.
My concept back then was that going open source, with learning technologies, would be the basic strategic direction for the New Zealand education system. And partly because it would mean that the smaller institutions would be enabled. There would be input substitution, but there would also be a lot of economy of scale around the support and maintenance of open source if we were able to enable it domestically.
So at that time I had secured some funding, and to cut a long story short, after around six months of research and analysis of various options, we selected what was back then a recently an early-stage project called Moodle; I sighted that they had 350 installations.
At that time, there was some other options too, ILIAS out in Germany, ATutor out in Canada. So we were looking for open source projects in the education space, which we would contribute to and make production-ready, if you like, for New Zealand education organizations.
So, we selected Moodle, we've invested a lot into that, particularly initially around scalability and security. In November 2004, we launched the first Moodle globally set of a significant scale. That was the Open Polytechnic of New Zealand, and that's for 35,000 students.
That caught a lot of interest internationally Athabasca, out in Canada, contacted me, the Open University in the UK.
There was this snowball effect globally, and before we knew it, we really had the target by the tail, and we were working closely with the Moodle project, and really accelerating for a period of its adoption.
At that time, if we had a modest impact in New Zealand, then that would be a good return on investment for the funding. But it turned into much bigger than that and took hold significantly in New Zealand, and then internationally, and it was a lot of fun. Guys like Tim Berners-Lee spoke at various events around the world, and it was a lot of fun in education.
At that time though, when I first started thinking of it, in 2006, that getting grant money is not a business model. Getting grant money is good while it lasts, and you want to make an impact with it, and I was very proud of the fact that we did make such a big impact.
And the return on that investment continues to accrue year-over-year, and it still does. So, that was a great project – but it's not a business.
Around 2006, I started thinking, well, how do you make a business out of this, and what we've done in education, would that transplant into corporate training?
And corporate was where my background was, I've been involved in creating, putting newspapers online in the early stages of the internet, and that sort of thing. So, I understood the corporate space.
That's really the back-story, the context of why we started Totara. I thought we made such a huge impact in education, let's do it all over again in the corporate space, and corporate Learning Management Systems and then in technologies.
Like I said before, it's a very different base to education, and a different feature set, it took quite a lot of investment to do that, and get the ball rolling there. But I knew the same dynamics should work, and the same reasons why open source was being so successful in the education space that would similarly be successful in a business environment, if we got it right. And we're pleased to say that we've had some good momentum.
Funding
Michael Schwartz: Is Totara still bootstrapped?
Richard Wyles: We have never taken on any venture capital, or private equity, or any of that. So yes, it did just start with me and three developers. And we now have 70 staff, so we've grown organically.
There were three shareholding parties originally, all of them services businesses, so they were really cash hungry and really couldn't give us any money, and I seconded myself out of one of them. So, in the first year or two, we were hanging on by a fingernails – that's for sure. It wasn't for the faint-hearted. From month to month, we would make payroll, that sort of thing.
But that's not unusual for startup folk. There's a couple of ways of going about it, trying to get early stage investment. We didn't do that, we arguably did that the hard way, but it really keeps you focused, and it also proves your business model pretty quickly.
Although to qualify that statement, you could have a fantastic idea that just didn't work because you didn't have the resources to execute.
So, there's no right or wrong, but that's how we did it.
Timing
Michael Schwartz: Obviously you need a little bit of luck, too.
Richard Wyles: Oh, yeah.
The timing is, I think – I look back and we got the timing right. If we'd been a couple of years earlier, then people would have not resonated with it so much, or if we had been a couple of years late, then somebody else probably would have been there.
So, we got first-move advantage, it was at the right time, and we got momentum reasonably quickly.
Arc of Adoption
Michael Schwartz: Totara is used by thousands of organizations in more than 50 countries. Can you talk about the arc of adoption over time?
Richard Wyles: It sounds like it's the great hockey stick, but it's actually been
a sort of steep and steady linear curve.
I think what's happened over time, though, is the much bigger organizations certainly have the confidence. So we've got some really big banking groups; or we've got a lot of US federal agencies and some really big ones in there, like the US Department of Agriculture, which is huge; financial institutions like Western Union; really big retail – Safeway, Dollar General, Levi's, The Gap, Tesco's, etc, in the UK.
I think that act has been very steady, but over time then some really big organizations have come. I mean, this is great, it's stable, the quality assurance is there, the feature set is there, this is a no-brainer – it's been very exciting to see that momentum.
Partner Network
Michael Schwartz: You also have a very strong partner network, 85 partners in 35 countries, at the time I read it.
How did that come about? Was there a deliberate effort to recruit partners to do focus on that? Or did it just sort of organically happen?
Richard Wyles: As it's an intrinsic pattern, the model is actually around a hundred now. That's a critical part. I think there's a major advantage of open source in combination with a global partner channel strategy, because each of those resellers – reseller is probably the wrong term because they are true strategic partners, and they can have a deeper relationship with the stack. It enables the inter-selectively target, different verticals or different groups of prospective customers in a really meaningful way, because they can use a series of plugins or they can configure them, because they can really get under the bonnet and do a lot with it.
The term I use for that is map specialization, and that dynamism is incredibly difficult for proprietary competitors to compete with.
Fundamentally, in the space that we are in, it says "fragmented market," and there are a lot of vendors out there and most of them are going down a SaaS cloud business model, but there's a lot of intense competition in that market.
But, now, the open source business model is highly defensible, and it gives us a lot of competitive advantages, like I just described, because in that cloud SaaS model, the unique ideas, unique innovation that those competitors have, only last so long as those competitors battle it out. That continuously stealing each other's killer features is where their competitive advantage is.
So, competitive advantage, based on feature set, hits the road today at an incredible pace amongst those proprietary classes. Because they've got a typical one-size-fits-all, surely enough they may have a really good configuration options, but fundamentally, they are working on a single code base, which means that they're not very agile and moving to the true needs of the customer.
And as soon as they come out with a new feature, then another competitor takes that and builds it themselves. So, that's a big sort of commoditization engine, it's an increasingly commoditized market as all software markets end up being.
With open source, absolutely, part of that commoditization process is at the base level of the stack. And then around the edges of it there's an incredible process of innovation. And that's because the customer and the maintainer, and obviously the core maintainer is us, are all part of that innovation value chain.
And a proprietary model, it is only the vendor that is really controlling the innovation. And it's such a waste of people's thinking potential. And that is why we've got a winning business model, but it does rely on those partners.
I'm glad to put it up, Mike, because we can innovate as much as we like. But if we didn't do it with a partner channel network, and we were trying to achieve what we have achieved just from New Zealand, it would have taken an enormous amount of capital investment, which we simply didn't have, and we wouldn't have the global scale that we enjoy now.
What Goes Into Core
Michael Schwartz: You managed to create a strong plugin ecosystem for the Totara platform – how do you make the decision as to what to bring into the core product?
Richard Wyles: We have quite a vibrant community, and so there's a lot of dear feedback through that community.
We also, over the years, have used multiple advisory boards with platinum partners. So they're really close in that they're major stakeholders, of course, and so, we engaged with them closely.
These days, instead of the PIB type model, we actually just get really close, we obviously know our partners well. There's a lot of feature requests through our ticketing system, backlog, then we have a team of business analysts and product managers, which we call a customer experience team. And that customer experience team is working with those partners, and directly with customers on occasion as well, to work out what the priorities are within the roadmap and their continuous improvement process.
Revenue Model
Michael Schwartz: So, every open source company struggles to find the balance between giving the product away for free, and monetizing sufficiently each fund R&D. Can you talk about how you found that balance?
Richard Wyles: Yes, so, I'm getting back to the partners, and that experience. I run that Mahara project which is ePortfolio project, which is still going very well and is very popular. As I said, I was involved in the Moodle community for a number of years. So, I saw that different business models, and with Mahara, and I think it's probably very common and true now, it was a real roller coaster ride, and sometimes the project would really slow down because of that.
And then if a customer wanted, a user I should say at Mahara, wanted something done, then they would come and ask for it, and we would build that into the core product because we've got a funded piece of work.
But it was really stop/start, and I've always thought that, in any technology, again, if you're not moving quickly, then your chance of success is really constrained – and you will ultimately fail. You need to keep accelerating with the R&D.
We so needed stability on our revenue. So our model is subscriptions for supported open source.
And what does "supported open source" mean? It means we've got full, automated testing script, the quality assurance around the product is paramount, and what corporate's expecting, government agencies, and all of our customer base.
We have annual subscriptions for that. Now what we do, and everything's 100% licensed
under the GPL vision3 – but we do not put that latest and greatest on GitHub in the public domain in real time.
A lot of that finds their way out there in these code contributions, back into the middle community from time to time, and vice versa, and everybody's got all the full freedoms – they can redistribute to whatever they like.
But that was the big risk, that was the big "ah-hah" type moment for me. When I was thinking about the business model, I was thinking well really our customers' are not in our business. What we do see is, here in Wellington government departments, they have a really vibrant local user community, and they do share code snippets of extensions and stuff like that, but fundamentally, they're not in the business of going into competition against you.
So, the model seems to me – as long as we are really good at what we do, then it's really defendable, and as defendable as any proprietary model.
Our subscriptions are for support, and service; and the risk we take is there is leakage around that. But what we have seen over the last eight or so years is it's not really a factor.
Fundamentally, we put out a maintenance release every month, and that's what people pay for.
People that don't want to pay for that and want to get a free ride on that, then I'm sure it's absolutely really easy for them to find a way of doing that. But our customers are corporates, or government departments, or health authorities, or hospitals, whatever – all of those types of clients – they want supported software. They are very happy to pay modest fees, which our model relies on volume really, it is quite a modest fee structure – they are more than happy to pay those fees to have their peace of mind, and the insurance that they've got quality software from the source.
License Model
Michael Schwartz: To make sure I understand this correctly, you're saying that you have a subscription, which includes support, plus the GPL version of the software that you released, and Q/A and tested, but that GPL software release is not available, let's say, on GitHub or via community packages. Is that right?
Richard Wyles: That's correct.
What we did for a while is have seedlings. We put out a community model that was untested, and didn't have the same level of testing, and it was actually at the forefront, it was our new staff, and it was before it had gone through the full Q/A cycle.
We used to do that, and the problem with that was that it would ultimately damage the brand for having buggy software out there in the ether. So we decided not to do that.
And I've been working with open source for a very long time – it is a myth under the GPL that you are obliged to put everything into the public domain.
What the freedom of the GPL enshrines is that the recipient has the full freedom to redistribute, extend, do whatever; the full freedoms of extending it, hacking it, changing it, renaming it, turning it into something else.
With Totara, they've got all of those freedoms. But the only difference for us is that we are just not putting it out onto the public domain from the get-go.
Now, I've been questioned on that a number of times as to "is that in the spirit of open source?" Or is it – which I find a rather nebulous concept because it can mean whatever the questioner wants it to mean – but, if you boil away the business models that are out there around open source, a lot of companies they'll either use a bait-and-switch model, so they'll have an open source product – but then they'll have the Enterprise licensing.
So they'll use the open source product, people start using that, but it may end up being a little bit crippleware, or may not have all the features set that the real deal does. And we've seen this play out a number of times.
I think SugarCRM is a really good example of this, where there was a vibrant open source project, would you even call it open source now? It looks and behaves exactly like a proprietary software these days.
The bait-and-switch model is a common one, which I don't like. And open core is another one.
Fundamentally quite similar in some respects. Open core is a core product, but if you want stuff that you really want, then you need these proprietary plugins to get what you really want.
So, again, it's sort of a proprietary model, making itself look like it's open source.
With us, I'm very proud of our business model because we don't do any of that. This is 100% open source. Always has been, always will be.
The way we make it work is – if you want our time, married out to all of our costs and the staff, that we have here on making stable, scalable, secure software with our Enterprise feature set that these big organizations want around the world. Then here is a transparent and standardized price levels for subscriptions, and you pay for that.
Now, you get all of the freedoms you can, it still looks that you're 100% open. You can still turn it into whatever you want to, and we've sent some amazing customizations with client projects. And if you want to go down the line, or if you want to turn off your subscription and go, "okay, we don't need your support anymore" – and that happens from time to time, but thankfully very rarely – then, all of those freedoms are there. And that is what the GPL insurance provides.
No apology for not putting all of our effort upon to GitHub as soon as we do it. Because if we did, the corporates aren't going to thank us for that. It's just simply, we wouldn't have a partner network, we wouldn't have a business.
Does Freemium Make Sense?
Michael Schwartz: One of the advantages some people talk about is the distribution marketing advantage to having the open source out there. Are you benefiting from that?
Richard Wyles: Well not, we are under R&D, but I'm skeptical about that benefit. That's like a freemium type of model, and I think it works to an extent, but what you've got to get is enormous. I think your conversion rate, if you did research on that, the conversion rate is typically extremely large.
Marketing
Michael Schwartz: Yes, that is a core question. As a bootstrap company, I'm sure your investment in marketing and marketing support is very tactical. Can you talk about how you manage out and how you prioritize marketing investments?
Richard Wyles: Sure. I mean, that's an isometric battle when our main competitors can be companies like Oracle and SIP, Cornerstone's enlisted for $3 billion. So, absolutely we need to be very tactical.
We've invested a lot in community and providing a lot of free value-added services to our user base, and we have user group meetings around the world. But also online, we've got an academy.
The academy is not just around how to use Totara products, the academy is also focused on good learning and development practices, which is our community of users.
We provided a lot of marketing material and content marketing through the channel, if you like, so providing co-branded materials for our partner network to use.
I think even though some of our competitors have much deeper pockets when it comes to their marketing budgets. We've got an agile sales and marketing force, by having a hundred partners out there, and partnerships in a whole lot of markets, some of those bigger suppliers have never looked into it. And frankly, their price points would preclude them from opening up some of those markets as well.
Also, technically, sometimes, depending on these days, at least not in the early days, we hardly had any major marketing investment. But these days some of the bigger tradeshows – I've just got back from Washington D.C. a couple of weeks ago, where there was the HD show, and that has around 10,000 delegates, and it shows that we invest heavily and we sponsor the registration area. We run a booth with five partners, we did the same in London, we did the same on various shows in Australia.
Now, we choose those specifically and look as big and as powerful as any of the other proprietary companies that we're trying to disrupt. And we do that, and I guess it's a bad analogy, but if you've got asymmetrical battle – then we'd be like the guerrilla fighters that go in with a lot of fire power to win a particular battle, and then we run for the hills and they don't see us again for another six months or something.
We just prioritize a limited marketing spins as strategically as we can.
Segmentation
Michael Schwartz: Yeah, this show is called Open Source Underdogs, so I guess that's fair!
The market for organizations that need training is extremely horizontal. And I saw one of your presentations, you segmented customers based on number of employees – are there other ways to think about how to segment the market?
Richard Wyles: The particular verticals- you're quite right that training is a very horizontal market. And then all organizations of size need to manage the professional development of their employees or their community.
We support a lot of not-for-profits as well. Like UNICEF, and American Cancer Society, Médecins Sans Frontières. They'll have many similar needs, but then they'll have some nuances.
And this goes back to an earlier comment, what we are enabling is that mass specialization. So, that last 10% of making a system do exactly what you want it to do, that can be a big difference between having a big smile on your customer's face, or a lot of annoyance.
You are here, and if you go on to review sites and stuff, and you look at competitors, and you'll do that from time to time, just to see where we are. It's often the little things that they can't change terminology, or they understand, they want their button moved from right to left on the counter.
These are just the simple freedoms that we enable with an open source model.
So, it's that last piece where's that mass specialization, term that I used before, that really enables that segmentation to work really well. It's one of the huge benefits of open source view.
Other Revenue Opportunities
Michael Schwartz: You mentioned that subscription is the primary revenue stream. But are there any other opportunities – like maybe cloud or data analytics – that you think might contribute to, or be faster growing in the future?
Richard Wyles: I do think there's an opportunity around data analytics and some of the machine learning around the patterns of – we've got user base of around 15 million learners there, so they should need some scope for that. And it is on our strategics or roadmap to be looking at that in the next 12 to 24 months or so.
More so, at the moment, we have a very robust report builder, and we can pull a lot of data, but then, that's within each platform. I think there are some interesting things around optimal benchmarking potential there.
Now, one of my mentions has always been, "does it scale?"
And that's because I've run services businesses in the past, and that's really challenging, because when you're going really well, and you are starting to find staff, and then when you're not going well, you have people sitting on the bench costing you money, it seems to be a bit of a roller coaster there.
With a product business and subscriptions, and you buy subscriptions, then we can forecast really well, and it's been a good model.
When you mentioned cloud, we do have a cloud service; most of Totara is hosted on cloud environments, whether it's AWS, or Rackspace, or whatever, core private clouds. Or through your partner network, there's multiple clouds there. We have a direct cloud as well, which we have positioned really as a fee to enter our partner network for initial pilots, and that's New Zealand Postal Service is an example of that just recently.
But we have a lot of that, where they start on our cloud, and then we just off-ramp them, so they're not on a single-code base, we can just spin up an instance, and get them going. And when they once had specific requirements, value-added services, then we introduce them to an appropriate partner.
In the future, there are some plans around getting more economies of scale like this for our partner network. There's a number of different monetization trends which just sort of shores up some of the weaker points in a model where not all partners are applying patches as fast as they should be, that sort of thing. So, there's various ways of doing that.
There's other ideas around, we've got a growing ecosystem around Totara, a lot of third parties want to plug into our platform. In most instances, it's through the partner network, they are free to do that. In other instances, there's strategic partnership, and then might be some financial aspects through that. In particular, content library, so if you think of big training libraries, then there's potential there as well.
Collaboration At the Core
Michael Schwartz: You previously have said that open source networks put collaboration at the core – what exactly did you mean by that?
Richard Wyles: Collaboration is the fundamental foundation of our business model. First of all, our R&D center is located here in Wellington, New Zealand.
I was just mentioning that the other day to some folks that – out of 70 staff, we have 29 nationalities that have come from all over the world.
So we've got a really interesting work environment, lots of nationalities here, but the point is that they are here in Wellington, New Zealand, and so, we are miles away. 95% of our client base is thousands of miles away from us.
So if we didn't have a collaborative model, some close relationships with the partner network, then we're really not going to have that innovation flow, we were going to miss the mark too much.
So, collaboration is key on that, collaboration isn't always easy. But I think there's a lot of self-interest in the model, we leave a lot of the economic benefits on the table for those partners, and it is in their interest to ensure that the core product is delivering what they needed to, so that they can thrive as well.
So, collaboration is essential for us, and we get a lot of collaboration through the community as well.
Next 20 Years
Michael Schwartz: Where do you see Totara in the next 10 to 20 years, or do you even plan out that far?
Richard Wyles: Well, personally, I don't. We're not even 10 years old yet, and it still feels very fresh in many ways that, you know, the market goes through waves of innovation, and it feels like we're going through one of those stages now.
And they need to acknowledge that, you've got to be on your toes, and looking 10 to 20 years, or particularly putting in plans, and I think that's inherently difficult. So, bringing that horizon forward, what we've got is a really exciting roadmap, ideas for launching two new products over the next six to twelve months.
One is a continuous performance management tool, the other one is an employee engagement tool, and these are all on the same platform. It's very easy to configure and deploy, and if you've got the synergy of it all, sitting on one big enterprise code base.
You mentioned analytics before, and we have a horizon for that as well. We've got a lot happening in our mobile team at the moment, so we're already busy. I can just imagine continuing to hire for the foreseeable future, and then, as we start getting those products established in the market, then it'll become very clear how much further we go in various software categories, really.
We're pushing out from learning into performance, and we can go further out into the talent-based and HR systems, if we choose to.
But that same model applies really, it's incredibly disruptive to the bigger players, because we're operating, you know, it's a mass of paradigm shift, that they will really struggle to compete with us.
Fair enough, the revenue per customer is a huge degree, higher than us, however, over the longer-term – Cornerstone is valued at 3 billion US dollars and yet, we've got 40% more customers from them in Europe.
Fair enough, they're a US company, but they've been around for 20 years. So, in less than half the time, we've got more than half of their customers, very similar profile size customers.
So, if I didn't believe that open source is an unstoppable force, I wouldn't be doing this. I truly believe that open source is the strategic future of technology.
Challenges For Open Source Startups
Michael Schwartz: What do you think are the biggest challenges facing pure-play open source startups today?
Richard Wyles: Critical mass I think. And it probably goes back to that framing model that we were talking about before.
I think once you start doing that, then it's really hard to move away from it. It's an appealing way to go, but I just have question marks over the conversion rate of that. So, you're playing a different game, and it's a completely different business model to the proprietary guys.
I think the whole sales and marketing side of it, you're not going to be wining and dining, or taking a client down for golf, or any of that, which proprietary companies are doing, because they are locking the customers in, they are signing the map for five years, and charging them large sums of money.
From an open source side of, arguably, you should be charging a premium because you're giving so much value, because you are giving all the freedoms to them.
But that's not the reality, the reality is, price points tend to be much lower because you're charging for a service, and because it's open source, somebody can compete with you at your own business, by taking your code and competing with you if you would be charging too highly.
So, I think it's a very honest business model. It's a business model which has a lot of transparency to it. When your competitors are inherently opaque at how they're coming up with their price points, then that's just fundamentally challenging, and it takes a certain amount of determination to break through that.
But, once you do have a momentum, a bit of momentum, then you didn't need the best product, but you need the best value proposition. And, fundamentally, you've got a great start with open source.
You've just got to make sure that, you know, some of the mistakes we made in the early days we were a little bit buggy in the first couple of versions, but we really tightened up on these days.
Back in those days, we were arguably shipping a software development. But these days it's a robust system out of the box, so it's always a journey.
Advice For Entrepreneurs
Michael Schwartz: Do you have any personal advice for entrepreneurs who are starting a business using open source, I guess more for the people than for the company?
Richard Wyles: Look, it can be all consuming, so just make sure your loved ones also know what you are for here.
If you've got a big ambition to drive an open source project or a company to great heights, then like any business, it will swallow you up. Make sure you have some time for yourself as well. I've just been doing huge hours for years, and I don't think that's for everybody.
Michael Schwartz: Richard, thank you so much for your time today.
Richard Wyles: Thank you, Mike. It's been interesting, and I look forward to listening to you other podcasts – it's fantastic.
Michael Schwartz: Okay, thank you, Richard.
And thanks to the Totara team for reaching out to us.
Transcription and episode audio can be found on opensourceunderdogs.com.
Music from Broke For Free and Chris Zabriskie.
Big thanks to our audio editor Ines Cetenji.
Production assistance and transcription by Natalie Lowe.
Operational support from William Lowe.
Follow us on Twitter, our handle is @fosspodcast.
Tune in next week for an interview with Sid from GitLab.
Until then, thanks for listening.